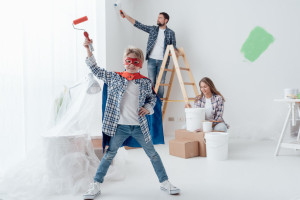 Planning on doing some major home renovation work in the near future? Chances are, you're going to experience some headaches along the way. Although we can certainly make things easier at Stone Passion by taking the worry out of everything from countertops to vanities, there are some discomforts that can't be avoided during the remodeling process.
Consider this: A recent survey found that 12 percent of home remodelers found the experience so stressful that they considered separation or divorce. Yikes! Definitely not the memorable experience you want to have. We can certainly improve the home situation by handling the countertop work for you. But here are some other ways to reduce the stress on you and your family, and make home renovation a positive experience:
Prepare the house: Start by moving everything out of the area of the future worksite. Not only will your things be safe, but more space makes it easier for workers to do their job. Don't forget to store your clothing in plastic garment bags, and protect floors with heavy duty cardboard or plastic. Home renovation can be stressful for pets, too, so try to keep pets in a part of the house that's not being worked on.
Communicate, communicate, communicate: Make sure you, your spouse, your children and anyone else living in your home knows what's happening with the home project on day-to-day basis.
Think outside the box: If work is being done in your kitchen you'll have to make arrangements for cooking. The solution? Set up a makeshift kitchen in another area of the house. A microwave, toaster oven and rented bar fridge will get you through this time of transition.
Get social: As if you need an excuse to see more of friends and family, this is the perfect time to get out more. Make plans for dinner, play dates and weekend getaways.
Call in the experts: After the work is done, a professional cleaner is worth every penny. Dust from drywall and wood can take a lot of effort and time to remove. A cleaning company can come in after the work is done to get your house back in pre-renovation shape (or better!)
Keep it light: Things are bound to go wrong, but it's not the end of the world.
If you need some help getting your remodeling project back on track, don't hesitate to give us a call. Here at Stone Passion, we are committed to creating a happily ever after experience for your family.